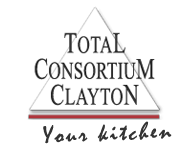 Our showroom located 31, rue Buffon, 75004 Paris has an ENGLISH SPEAKING DESIGNER

who spent 18 years in the USA designing high-end kitchens. He is known for his creativity, versatility and true listening.


Those three factors combine to create understanding, contemporary, traditionnal or old world kitchens that make you cooking, eating and entertaining a joy.



To speak about your project you can reach him for appointment at 01 47 07 12 89





With 10 SHOW ROOMS

and more than 30 years experience in high-end kitchen design,
Total Consortium-Clayton is the leading kitchen firm in the Paris area.


Total-Consortium-Clayton is offering since 1970

full service from design, remodeling to installation.

Commited to excellence we pride ourselves in our knowledge, creativity, service and business conduct


LEICHT, THE GERMAN TOUCH
Clean forms, sophisticated aesthetics, ergonomics and functionality. More than 160 different finishes are available.

LINEAQUATRO,
CREATIVE ITALIAN DESIGN
Contemporary and sophisticated designs for an elegant contemporary lifestyle. More than 160 different finishes are available.

LA CUISINE FRANCAISE, THE COUNTRY COLORS OF FRANCE
La Cuisine Française cabinetry features timeless charm with its distressed accents and warm tones that invoke the charm of the French provinces.

>>> See more



Mrs Y PARIS says :

"I remodeled my kitchen 6 years ago and was very satisfied by the way the work was done. I came back for a new kitchen without consulting any other kitchen companies because I knew I will obtain the same quality and workmanship. I was not disappointed."

Mrs. Y SAINT MAUR
Quality of products, commitment and professionalism of employees.
Mrs. 3
Beautiful cabinetry. Designers knowledgeable and responsive.